Guidance Documents
We have colelcted together some useful guidance documentation for your information, please feel free to download these for future reference, if there is any topic you wish to see coevred just contact us and we try and include it here.

More comprehensive guidance documents can be found in the other sections of this area of the site, please use the navigation menu at the top to locate the information you need?


Typical sinage and informtion.
The various areas within a DSEAR Site must be appropriately identified and signage must be in use where personnel have access to hazardous areas.

UK Guide to the ATEX 94/9/EC Directive
Guidance issued by the UK for implimentation of the ATEX Directive, a good all round publication

Equipment and Protective SystemsIntended for Use in Potentially Explosive Atmospheres - the Regulations in brief
The Directive on equipment and protective systems intended for use in potentially explosive atmospheres (94/9/EC) was adopted on 23 March 1994 and entered into force on 1 March 1996. The Directive is commonly referred to as the 'ATEX'Directive.
Pedestrian access..
Typically, where pedestrian acces is needed then an example sign might be as shown here.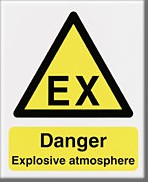 European Commision Guance 2 nd Edition - ATEX Guide
Guidance document issued by the European Commission on the the ATEX Directive - 2nd Edition

GUIDELINES ON THE APPLICATION OF COUNCIL DIRECTIVE 94/9/EC OF 23 MARCH 1994 ON THE APPROXIMATION OF THE LAWS OF THE MEMBER STATES CONCERNING EQUIPMENT AND PROTECTIVE SYSTEMS INTENDED FOR USE IN POTENTIALLY EXPLOSIVE ATMOSPHERES ....
No Smoking Signage.
One must not forget the obvious signs, where these are needed


SDA Technical Services - DSEAR Overview
A brief overview of the The Dangerous Substances and Explosive Atmospheres Regulations 2002, produced by SDA Technical Services UK

DSEAR Overview - Introduction
The Dangerous Substances and Explosive Atmospheres Regulations 2002 (DSEAR) came into force on 9th December 2002 and applies to workplaces in the majority of industrial and commercial sectors.
SDA Technical Services - DSEAR 2002 basic requirements
A brief overview of the requirements set out in The Dangerous Substances and Explosive Atmospheres Regulations 2002, produced by SDA Technical Services UK

Introduction
Small quantities of dangerous goods can be found in most workplaces.
Whatever they are used for, the storage and use of such goods poses a serious hazard unless basic safety principles are followed.
What is "CE Marking". and article explaning what the CE Mark is and how to ensure your products comply

UK DSEAR experts.

UK DSEAR experts provide the consultancy, expert advice and information with regards ATEX 94/9/EC - The equipment directive. As expert UK consultants in the field of Explosive Atmospheres Regulations we understand and provide the work you need to ensure you comply with the European directive for equipment and protective systems.